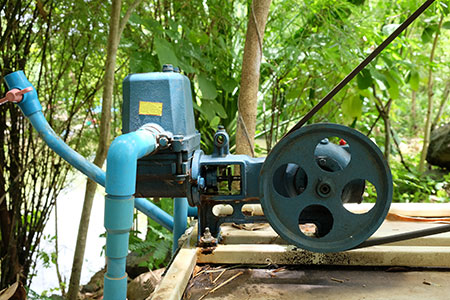 At Flick Drilling, we take pride in our deep-rooted family business. We love to build relationships with our customers through personalized service. We offer extensive knowledge and experience in iron filtration and water pumps and would love to apply our expertise to your next drilling or water well testing project. Our comprehensive services include:
Water well drilling services: Do you need to tap into groundwater? Flick Drilling uses a cable well driller to access underground aquifers and deliver the water you need. With decades of experience, we provide top-quality water well drilling services, every time.
Water well pumps: Do you need a new water pump? Service for an old one? Our expertise in well pump installations covers all aspects of water well pumps in Tionesta, PA. We ensure your water extraction is smooth and reliable. We offer sales, installations and repairs, to meet all your needs for water well pumps.
Water well clean out/deepening/repair: Do you already have a water well? Often, these structures require clean-out or repairs. At times, a well must be deepened for better water access. This maintenance requires specialized knowledge of water wells. Flick Drilling offers the expertise and equipment to complete these tasks and water well testing to keep your water well operating optimally.
Water filtration systems: A water filtration system can enhance the taste and performance of your water. Many home and business owners use these systems to protect appliances, increase efficiency and improve the overall quality of their water systems. Contact our experts to find out what filtration system might be best for your location. Flick Drilling handles the installation of your filtration system, including iron filtration and water softener installation.
Flick Drilling proudly uses industry-leading Goulds Pumps. We offer the best in products, services and customer care. We are your go-to source for everything from water filtration to well pump installation in Tionesta, Pleasantville, West Hickory, and Forest County, PA.
Contact us today with all your water well drilling and water softener installation services at 814-755-4269. We look forward to getting to know you!